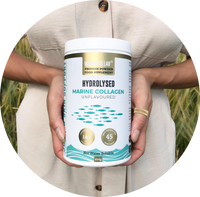 IT'S FOOD TO ADD TO FOOD
Collagen Type 1 & 3 • 45 Servings
100% Natural Marine Collagen Powder
10.000mg per serving • Halal & Kosher
Highest bioavailability Peptides
GET 5% OFF
One of the best Marine collagen on market. My psoriasis is nearly gone completely. Highly recommend.

Branislav
Just run out of the collagen and going to reorder as I absolutely love it! my hair and nails are growing like crazy and I just feel great overall so can't be happier with this product.

Martina M.
Using now for 6month and the result is absolutely visible on my skin. Strongly recommended

Roland K.
My husband and I have been using marine collagen for a month. It's easy to take in your tea and has no taste. Already my arthritis has eased and I think we need a little longer for skin results being older generation but it's all positive so far

Beverley F.
Love love love 💓 Great Collagen! I noticed a difference already - my skin looks nicer and my nails are stronger. Highly recommending!!!!

Aga
Marine collagen powder, best I have tried, mix in with daily porridge, no fishy taste, great service, quick delivery

Evelyn
I regularly purchase the Marine Collagen as it really helps with my joint pain, it's easy to take each day and a very reasonable price. Overall an excellent product and a very decent company!

Mandy C.
Excellent product, I have noticed a difference in the strength of my nails, and feel very good taking it.

Jackie T.
Like this product! I mix it in a hot coffee it's got no taste or smell, my nails are amazing they're normally very weak but have grew really quickly and strong. I normally buy collagen tablets but I think this powder is much more effective..

Wendy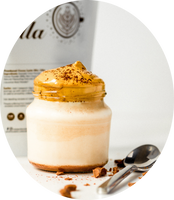 ADD TO MILK, COFFEE & SMOOTHS
Get your daily collagen or plant protein in without getting totally bored! Add Wellness Lab powders to milk, coffee, smooths and baked goods. It's easy peasy boosting your diet with high quality protein, fibre and healthy fats!
SHOW ME HOW